Seminar Sponsors
Seminar approved by ETVMA
James M. Morton, DVM - President
17 Hour Units for Veterinary CE in Texas
.................

Henry Schein Animal Health
Since Henry Schein opened his pharmacy in Queens, New York in 1932, the Henry Schein organization has become a Fortune 500® Company and the largest provider of health care products and services to office-based dental, animal health and medical practitioners.

Today, Henry Schein Animal Health (HSAH) is the leading companion animal health distribution company in the U.S. Located in Dublin, Ohio, HSAH employs approximately 900 team members, including 300 field sales representatives and 200 telesales and customer support representatives. With this team and 12 strategically positioned state-of-the-art distribution facilities and 10 inside sales centers nationwide, HSAH maintains a greater than 98 percent order-fill ratio, thus providing the best customer experience possible.

Henry Schein Animal Health partners with over 400 of the market's leading animal health manufacturers in the world. Therefore, HSAH is positioned to bring the broadest selection of veterinary products and strategic business solutions to over 26,000 veterinary professionals nationwide.

Click Here to read more about Henry Schein Animal Health
.................

Oncura Partners, Powered by Analogic
Oncura Partners strives to become the world leader in veterinary disease management services. We provide leading edge diagnostic technologies, treatment advancements, specialist consultations and case management while nurturing the human-animal bond. We work with our partner veterinary hospitals to improve patient management decisions leading to optimal patient outcomes.


Oncura Partners Diagnostics is proud to provide an extremely advanced Ultrasound technology for all small animal practices. This is the FIRST and ONLY ultrasound equipment that will provide REAL-TIME training and support in your practice.
REAL-TIME means: Our trained Sonographers can be on line CONTROLLING your Ultrasound machine and managing all settings and functionality, while the Doctor or Staff is acquiring the examination.

REAL-TIME means: With the integrated HD video camera we can see HOW you are scanning your patients while we are TALKING to you via phone. Hence, we can make suggestions to scanning techniques that might improve your image acquisition.

REAL-TIME means: Your staff can have training on YOUR equipment in your hospital in hour long segments. These modules will cover all organ systems and provide the foundation of learning how to acquire the examination images needed for interpretation by our Radiologists.

REAL-TIME means: IF needed , a board certified Radiologist can also see the examination in real-time while it is being performed.

REAL-TIME means: All images are immediately and seamlessly sent into our Telemedicine Portal (OP HUB) where our Radiologists interpret and provide full reports for your patients. The HUB is where you can access all images via the internet whenever you require.
Click Here to review Oncura's Ultrasound equipment
.................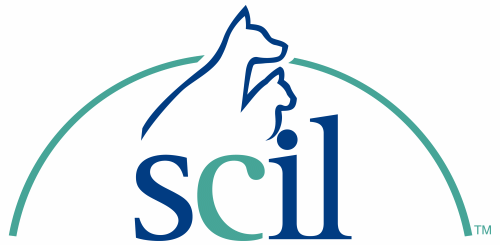 Scil Animal Care
Founded in 1998, Scil Animal Care is an international organization with 8 subsidiaries throughout Europe, Asia and North America, as well as distribution presence in 24 countries. Scil Animal Care is dedicated to delivering the highest quality of medical equipment to animal health professionals. Scil provides the veterinary market with a diverse portfolio of in-house laboratory devices, including laboratory software, diagnostic ultrasound, digital radiography equipment, surgical power tools and implants. Scil has also formed exclusive partnerships with industry leaders to guarantee they achieve their goal for Veterinary Excellence!

In addition to the selection of products it offers customers, Scil Animal Care provides product installation and training, loaner and repair services, as well as a broad array of educational programs. Among Scil Animal Care's more than 200 employees are 32 veterinarians, 26 equipment specialists and more than 70 sales representatives.

The Scil's Animal Care national sales team and distributor networks are ready to support you with performance driven technology, personalized customer service and financing options.

January 19, 2015: Henry Schein, Inc. announced today the completion of its acquisition of the Scil Animal Care Company GmbH.

Click Here to read more about Scil Animal Care

.................
Seminar presented by: